Great British Food
Sushi and ceviche are about as far as it gets from classic British food, but a growing number of chefs are creating their own kind of fusion – combining fresh, local ingredients with international flavours. Moshi Moshi was privileged to have been featured in Jenney Linford's article for the Great British Food magazine on the topic. Read the article here.
Moshi Moshi in The Guardian
Moshi Moshi launched the world's first Sushi QR code in October 2012. Since then, the concept of using smartphones and QR codes to find out where your food comes from has really gained traction – particularly after the horsemeat scandal. The Guardian wrote a piece on it here.
QR Sushi Codes get the Thumbs Up in the Metro
We were delighted to see the technology pages in the Metro championing the notion that diners should be entitled to know where their food comes from. Following on from the horsemeat debacle, the momentum is gathering for more transparency: showing you clearly where your food comes from is at the heart of what we do at Moshi Moshi.
Download and read the article here.
View London reviews Moshi Moshi

A very pleasant surprise. Definitely worth hunting out, especially if you're looking for sushi.

Read the full article

ES ARTICLE: A SUSHI-HISTORY LESSON

How times have changed.
These days, with sushi an everyday choice for many Londoners, it's easy to forget what an innovation it was when Caroline Bennett opened the first conveyor belt 'kaiten' sushi restaurant in the city way back in 1994.
This article from a 1996 issue of the Evening Standard's ES magazine gives Moshi Moshi a lovely review and looks at how we were seen to be changing Londoners' eating habits with our brand of fast, healthy, authentic Japanese food with a slight English accent.
They say journalism is the first draft of history, and while the author's predictions for sushi restaurants based on small rivers of floating plates rather than conveyor belts may not have come to pass, Londoners have definitely learned to love our sakemaki rolls and pickled ginger, wasabi and saba, just as much as we hoped they would.

Read the Evening Standard review here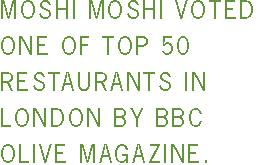 "Now in its 11th year, this is the original of three City-based conveyor-belt sushi joints. Much of the fish used – including sea bass, mackerel, red mullet and spider crabs – arrives fresh daily from Cornwall. Try also the gyoza (pan-fried pork dumplings), yakitori (grilled free-range chicken skewers) and tempura (seafood and/or vegetables in an incredibly light, crisp batter)."