Jamie & Jimmie's Friday Night Feast
Latest News...

Channel 4 featured Moshi Moshi cooking up dishes made with generally under-used parts of fish. Jamie was keen to highlight the waste we inflict on nature in our desire to eat only selective parts of a beast – the fillet for example. The UK wastes perfectly edible parts of a fish such as its liver or its head, and on top of that, we waste entire species like horse mackerel or dogfish. In Japan of course none of this would go to the bin; it would be positively relished. We hope you've noticed our acknowledgment to the traditions of Japanese cooking and have tried some of the more esoteric dishes on our menu such as the prawn heads and monkfish liver, as well as dog fish masquerading as eel.

March 2015
---
SAVE THE OCEANS
Latest News...

Richard Bransons profiles the campaigns to save the oceans by Greenpeace, the Marine Stewardship Council and the Worldwide Fund for Nature. Features Moshi Moshi Sushi restaurant in London as one of the pioneers of sustainable fish procurement. ©UNITED POSTCODE LOTTERIES 2013



Jan 2014
---
MONTY HALLS THE FISHERMAN
Latest News...

Marine Biologist Monty Halls takes a look at the UK fishing industry and their efforts to promote sustainability and the environmental impact of fishing.



Jan 2014
---
Interactive Sushi with the MSC
Latest News...

As one of only a few UK restaurants to have achieved the prestigious MSC Chain of Custody certification, we are proud to have been serving MSC fish for nearly 6 years.

To celebrate the 10,000th certified dish served in Moshi Moshi, the MSC has worked with our chefs to develop 'interactive MSC sushi' - sushi carrying an edible QR code to help you find out the sustainable origins of the fish you are eating, right then and there! We were the first to bring QR sushi to the world in October 2012. To see how we did it click on our video link.
Nov 2013
---
Little Boats, Big Victory!
Latest News...

Greenpeace supported the inshore small scale Fisherman to victory in a landmark ruling in the High Court. The Arctic Sunrise II docked up in Canary Wharf to celebrate, and we danced the night away…

share this video and help grow the movement of oceans defenders!

July 2013
---
Prince Charles supports Fishers
and the Marine Ecology
Latest News...

The Prince's International Sustainability Unit works with UK fisherman to support a sustainable future. Thanks to the initiative, Moshi Moshi attended some really interesting debates on the future of our seas over a 3 day workshop.

facebook.com/FishingintotheFuture

July 2013
---
TELEGRAPH INTERVIEW
Latest News...

The Telegraph interviews Caroline Bennett on her links with small –scale fishers

View the interview.

November 2012
---
BE A FISHERMAN'S FRIEND CAMPAIGN
Latest News...


We're proud supporters of Greenpeace's Be a Fisherman's Friend campaign.

Click here to find out how you can support sustainable fishing: www.greenpeace.org.uk/beafishermansfriend

September 2012
---
SUSTAINABLE FISH CITY
Latest News...
Sustainable Fish City have worked tirelessly to get better-sourced fish at the Olympics, and the initiative sparked interest from the American on-line food magazine called Spenser.

Click here to read more: http://www.spensermag.com/spensermag-jul-aug-2012.html (on page 84 of the magazine).

August 2012
---
OUR FISH ON BBC TV
Latest News...
If you've ever wanted to see exactly where our wonderful Cornish fish is from, then have a look at the BBC show, Fisherman's Apprentice. The programme follows marine biologist Monty Halls as he learns traditional fishing techniques. Last week he was out on the boat that brings in our Cornish catch, the Lady Hamilton, and then followed the fish all the way to London.

Click here to see footage from the program.

April 2012


---
HEROES FROM BAIT TO PLATE
Latest News...
Slow Fish champion changes to our oceans. Click here to read how Moshi Moshi's Caroline Bennett joins forces with others from around the globe to help protect our seas.
March 2012

---
HRH THE PRINCE OF WALES LAUNCHES HIS INTERNATIONAL SUSTAINABILITY UNIT MARINE PROGRAMME
Latest News...
Following on from the success of his work on Rainforests, the Prince of Wales has launched a new initiative on Ocean sustainability. In reflection of her campaigning on the subject, Moshi Moshi founder Caroline Bennett has been invited to join HRH when he addresses an international audience at the launch on the 3rd March at Fishmonger's Hall. Click here for more information: International Sustainability Unit Marine Programme.
March 2012


---
ANNUAL FISH & CHIP AWARDS
Latest News...
The Good Catch Award (www.goodcatch.org.uk) was given to Harbour Lights fish & chips shop from Falmouth in Cornwall for their innovative menu options and determination to change the way our fish are taken from the sea.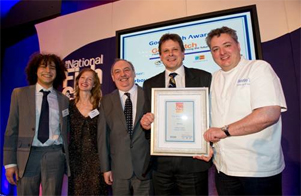 Richard Corrigan and Moshi Moshi founder Caroline Bennett awarding Harbour Lights their Good Catch sustainable fish Award at the annual Fish & Ship Awards.
Januray 2012


---
RAYMOND BLANC'S SUSTAINABLE FISH FORUM
Latest News...
The Sustainable Fish Forum, hosted by restaurant luminary Raymond Blanc, saw nearly 100 restaurateurs gather at the opulent Fishmongers Hall on London Bridge for a day dedicated to learning more about the plight of our oceans, and, more importantly, pledging to do something to change it. Restaurants are perfectly placed to lead the world towards more sustainable fishing, as relative to global food markets, we are perfectly scaled to be able to match the haul of small-scale UK fishers. Judging from the enthusiasm of the participants at the event, perhaps we are not so far off a world where all restaurants could be serving locally caught, marine-friendly fish of freshness that we can only dream of in most restaurants currently. This was the vision for me and countless other restaurateurs and chefs who signed the Fish Pledge.
If you are a chef or restaurateur then sign up, too!
January 2012


---
SMALL SCALE FISHERS for the NORTHERN SEAS
Latest News...
In November, Caroline Bennett, founder of Moshi Moshi, joined the inaugural meeting of small scale fishers for the Northern seas organised by Slow Food in Bremen, Germany. Founder of the Slow Food movement, Carlos Petrini, addressed the small group of European fisher people, encouraging us to foster links with small scale fisheries to protect the marine environment, and crucially, retain the knowledge and skills of the fisherman that will be lost forever if large scale fisheries continue to dominate our seas.
December 2011


---
A SRA 2 STAR RATING!
Latest News...

Moshi Moshi was delighted to be awarded a 2 star rating by the Sustainable Restaurant Association.

We were pleased to be recognised for the work we do in sourcing ethical fish.
November 2011


---
Environmental Justice Foundation Stops Illegal Fishing
Latest News...
Moshi Moshi is committed to sustainable fishing methods and repairing the damage already done to our oceans around the world. But everyday around the world, illegal international pirate fishing vessels continue to pillage the seas, wrecking ecosystems and ruining the livelihoods of local fishermen.
One area of great concern is the seas off West Africa, and so in June we ran a fundraising cuttle fish campaign to raise money to help the Environmental Justice Foundation buy a new surveillance boat to police these waters. Our Members happily chomped through over £400 worth of cuttlefish.
"Thank you so much for your fantastic donation of £423 raised through Moshi Moshi for EJF's Boat Appeal," said the EJF. "This is a truly wonderful gift and extremely welcomed by our team, particularly those running the project in Sierra Leone."
July 2011
---
Oceans: our world's bank
Latest News...
Arup invites you to a discussion on the world's oceans, click here for details.
July 2011
---
Ocean Pledge from Selfridges
Latest News...
Oxford Street, led by Selfridges, has joined the Sustainable Fish City (www.sustainweb.org/sustainablefishcity) campaign with their intention to turn Oxford Street into an area that serves only sustainably caught fish. Selfridge's Project Ocean held a number of fantastic events to highlight the plight of our oceans, and Moshi Moshi founder, Caroline Bennett, will joined their panel debate on Thursday May 26th.
---
Small-scale fishers: A threatened species
2011
Latest News...
That's the common thread of this year's edition of Slow Fish. Without ignoring the on-going depletion of our oceans and seas, attention will be focused on the people around the world who make their living from fishing, who serve as custodians of the sea and who carry with them an invaluable legacy of memory and traditional knowledge.
Caroline Bennett will attend the event in the capacity of her role in Pisces Responsible Fish Restaurant www.pisces-rfr.org , which has just started to link small scale cuttle fish fisherman to London restaurants.
May 2011
---
goodcatch.org.uk
Latest News...
Moshi Moshi works closely with Good Catch, a fantastic organisation that seeks to join disparate groups working in the UK on improving our fisheries. Good Catch provides practical information and events for chefs, caterers and restaurateurs, making it easier for them to serve more sustainable sea fayre. Caroline Bennett sits on their Advisory Panel.
---
Fish 2 Fork
Latest News...
Eat out with a conscience – are you putting your money where it counts ? Check out Fish 2 Fork's Restaurant Rankings.
---
The Ethical Shellfish Company
Latest News...
On the ever-topical subject of trawling, we haven't used dredged- scallops for a long time at Moshi Moshi, but now we've gone one step further and been fortunate enough to have been introduced to Guy at the Ethical Shell Fish company. Guy and his wife Juliet run the business together, and having dived for the scallops himself, Guy makes the long journey down from the Isle of Mull to London, to deliver the most exceptionally delicious scallops, every Monday morning. Mondays can be a dull day for fish, but Guy has just turned our Mondays into scallop heaven! As an introduction to the scallops we've added them to our Member's offers this month, so please do let us, and the Ethical Shell Fish company, know what you think. We love them!
February 2011
---
Join the Fish Fight
Latest News...
January was a busy month for fish-lovers: Hugh's Fish Fight series on Channel 4 was superb, and had me in a rare state of being glued to the TV. The programs showed graphically how mindless, and often brutal, the fishing world is. Hugh F-W has really put the issue of wasteful discards on the agenda, but as politicians are often slow to react, if we don't take matters into our own hands, will there still be fish left in the sea by the time the politics are sorted?
Fighting to stop the pointless discarding of so much dead fish back in to the sea is a travesty that we, as consumers, can all do something about. But fisherman themselves can also do better. Politicians in Brussels may allow the widely reviled quota system to prevail, but do we really think that the fisherman would have allowed this situation to persist had it not worked, to some extent, in their favour?
The sad truth of the matter is that many trawlers will take valuable fish such as cod on board on say, day 5 of their trawl. In order to make room for the haul of this latest catch they have to discard the catch of a less-valuable species caught earlier in the trip.
This practice is called 'high-grading' and, for as long as the fishermen are not legally required to land and record their entire catch, they will blame Brussels for something they are commercially inclined to do anyway.
So what can the fishermen do?' Escape panels' are inexpensive to fit on to most trawl nets - under £1,000 - and will significantly reduce discards. Consumers should try and avoid purchasing fish caught in trawlers unless they know it has this devise fitted. The effectiveness of the escape panels has been demonstrated in many parts of the world (including recently in our own waters off the Sussex coast where it was shown to reduce discards by between 50% and 80%) A big ask of the consumer of course, so perhaps, until legislation comes in place to stop trawlers operating without these escape panels, we should simply avoid purchasing trawl –caught fish. Waitrose have done it with their line caught fish, so why can't we all?
Your next step? Sign up to Hugh's Fish Fight campaign www.fishfight.net and next time you buy fish, ask whether or not it was trawl-caught.
Happy campaigning!
Caroline Bennett
Founder and owner of Moshi Moshi
January 2011
---
What's really in the Tin?
Latest News...
Have you ever felt re-assured by the 'Dolphin Friendly' logo when choosing a can of tinned tuna? Don't be, according to our friends at Fish 4 Ever, a brand supplying tinned fish that is committed to sustainable souring.
While Dolphin-Friendly labels make it sound as if the tuna is 'well fished', Fish 4 Ever believe the exact opposite is the case, and Greenpeace agree.
For too long too many companies that should know better have been hiding far greater sins in the tuna fishing and canning industry behind this dolphin-friendly statement.
January 2011
---
You Can Make a Difference
Latest News...
At Moshi we are committed to making our fisheries sustainable and if you want to help us make this happen, take a minute to watch the Environmental Justice Foundation's film and, if you agree with us, sign this petition.
With your help, January 2011 could be the month we take a great leap forward towards enforcing fishing quotas. Many thanks.
January 2011
---
Oceans Acidification
Latest News...
Our oceans are amazing: an incredible resource for humanity and a thing of beauty, mystery and beguiling complexity in their own right. But fundamental changes are occurring to marine ecosystems as concentrations of carbon dioxide in our atmosphere rise, the seas take up more and more, and so become increasingly acidic – threatening many species. At Moshi Moshi we believe we have to act now. We have already switched to smaller boats – that use less fuel – and adjusted our purchasing to help our fishermen be more efficient.
November 2010
---
Adventures with English fish - Terra Madre Day
Latest News...
When we first opened, in 1994, we imported white fish, such as red bream and snapper, because that's what was eaten in sushi bars in Japan. But this was madness.
The UK is an island nation, surrounded by seas full of fish, many of which are more tasty and interesting than the varieties we were importing. But it wasn't until Moshi Moshi founder Caroline Bennett met a Cornish fisherman at the Slow Food world summit, Terra Madre, 2004, that we saw exactly how the restaurant could take advantage of these amazing riches.
Up until then, the quality of white fish we were getting just wasn't up to the mark. Of course, fish eaten raw has to be super-fresh, but it also needs to be caught and handled in such a way that the flesh of the fish remains in perfect condition. Trawl-caught fish simply wasn't as good as the catches we started getting from our Cornish fisherman, who use gillnets, which have the added benefit of not damaging the sea bed like a trawler.
We didn't stop there, though. We realised that ordering specific fish wasn't the best way to make the most of our fisherman's catch, so instead we decided to experiment with whatever he caught – and in the process discovered the wonders of our unagi-eel alternative: the Lesser Spotted Dog Fish.
To celebrate our adventures, join us on December 10 for a complimentary kabayaki dogfish & cucumber temaki handroll. We will donate a £1 to Slow Food for every temaki eaten.
December 2010
---
End of the Line Screening
Latest News...
At Moshi Moshi, marine conservation and sustainability is at the heart of everything we do. If you want to know why it's so important, join us for a screening of the immensely powerful documentary, End of the Line. Claire Lewis (Producer of the) and Caroline Bennett (founder of Moshi Moshi) will be hosting the film at The School of Oriental and Asian Studies Food Studies Centre, on December 17.
December 2010
---
Join the Marine Stewardship Council's Seafood Lunch!
Latest News...
The Global Sustainable Seafood Lunch lasts for 24 hours as it makes its way around the world. Restaurants, businesses, schools, organisations and individuals are all taking part on September 30th.
At Moshi Moshi Liverpool Street we are donating a £1 to the MSC for every Alaskan Salmon teriyaki dish served, and 50p for each mackerel sashimi plate at Canary Wharf, both fish from certified MSC fisheries.
Click here to read more
September 2010
---
The Food Program
Latest News...
Through the fish market of Rungis, the streets of Paris, and the conference halls, The Food Program asks the experts what they mean by "sustainable fishing", and how cooks everywhere can find it, speaking to Seaweb Seafood Choice's conference keynote speaker Professor Daniel Pauly, the community supported fishery from Maine, and UK restaurateur Caroline Bennett owner of sushi restaurant Moshi Moshi.
Click here to read more
April 2010
---

Sustainable Sushi in the Square Mile
Latest News...
The Marine Conservation Society is Deutsch Bank's Charity of the Year in 2010. Their aim is to get all restaurants in the Square Mile serving only sustainably caught fish.
Following the success of our event in June that focussed on MCS's campaign, we are now offering to do similar workshops in companies within the Square Mile. Please get in touch if you would like to work with us to promote sustainable oceans in your place of work.

August 2010
---

Environmental Justice's 'Save the Seas' Campaign
Latest News...
SAVE THE SEA CHANNEL CHALLENGE
Congratulations - they did it!!
One family. One challenge. One day. 21 miles. 2772 lengths. From the youngest (Dominy – just 1 years old) to the eldest (Bill, at 70), together they swam the channel, without leaving Suffolk...
http://www.vimeo.com/13274110 www.justgiving.com/SaveTheSeaChannelChallenge
Eleanor and her family swam an impressive 3157 lengths, over 23 miles, on July 4th with highlights from her little brother (aged 5) swimming 34 lengths and her cousin (aged 6) going for an amazing 78!

July 2010
---

Mitsubishi Corporation's Recent Declaration on Blue Fin Tuna
Latest News...
Mitsubishi Corporation are the biggest traders of Blue Fin Tuna in the Mediterranean, but this summer, they didn't send purse seiners out on the annual blue fin massacre. A welcome move from us at Moshi Moshi. For more information: Click here for details.
Click here for more details

August 2010
---

Greenpeace Action in the Med
Latest News...
The bluefin tuna regularly journeys between America and Europe and their two spawning populations have both been catastrophically overexploited, in the main down to the growing global popularity of sushi. The BP oil spill in the Gulf of Mexico, one of only two known Atlantic bluefin spawning grounds, has only intensified the crisis. The other spawning ground, the Med, was the target of Greenpeace's efforts to save the last few tonnes of this noble creature. Estimates suggest that there may only be 9,000 tonnes left; just enough for the entire population of New York to have a final bite of high-grade otoro sushi.
For more information on action in the Med by Greenpeace, follow this link.
http://www.nytimes.com/2010/06/27/magazine/27Tuna-t.html
---

The Year of Biodiversity
Latest News...
As part of our continuing commitment to do all we can to protect marine life and support responsible fishing, Moshi Moshi owner Caroline Bennett was speaking at The Headquarters of the European Environment Agency in Copenhagen this May about the importance of biodiversity – and what we can all do to help preserve it.
Click here to read more
April 2010
---

Blue Fin Tuna in Crisis
Latest News...
It was a sad day for us here at Moshi Moshi when the Bluefin tuna failed to make the UN's list of protected fish at the meeting of the Convention of International Trade in Endangered Species (CITES) in Qatar. Moshi Moshi has been at the forefront of campaigns to stop serving Bluefin, and we took it off our menus in 1999. Click through for the full article.
April 2010
---

Good Catch
Latest News...
Sustainable Fish Event by the newly formed Sustainable Restaurant Association, Caroline Bennett will be on the panel to discuss how chefs can influence the way in which our seas our fished.
Click here to read more
March 2010
---

Major of London's Green Procurement Code
Latest News...
Major of London's Green Procurement Code, follow Caroline Bennett's presentation to the Responsible Food Procurement event at www.greenprocurementcode.co.uk
Click here for details
November 2009
---
Pisces Responsible Fish Restaurant
---
Moshi Moshi and the environment
The world's fish stocks are in decline because of modern fishing practices and climate change. Moshi Moshi is at the forefront of a campaign to change the way we catch and eat fish so as to protect fish stocks, fostering direct relationships with independent fishing families so as to secure their livelihood whilst at the same time being able to guarantee our strict environmental policy.

For this work, we have been awarded the Green Apple Award for the Environment , and the RSPCA Award for Animal Welfare. Caroline Bennett, Moshi Moshi's managing director, is regarded in the industry as one of the leading figures in the movement, and was made Seafood Champion by the Seafood Choices Alliance in 2009. As such, Caroline was asked to consult on Charles Clover's documentary about the depletion of global fish stocks, 'End of the Line'. To help other fish restaurants become more sustainable, she has established the Pisces-Responsible Fish Restaurants initiative.

Moshi Moshi is one of only seven restaurants in the UK that has achieved Marine Stewardship Council (MSC) certification.

We do all of this because we care for our oceans, and believe that with the right measures they will be saved for future generations.
---
Recent Articles
Recent articles about Moshi Moshi, our sister restaurant Soseki, and our environment work can be found below:
---
Previous articles...
Moshi wins Green Apple award
Sustainable Fisheries
Clear Conscience Sushi Set
Kentdown Mushrooms
Tuna
Salmon
Squid
Cornwall
How to buy fresh fish
Fisheries consultant
Dr Malcolm MacGarvin
macgarvin@modus-vivendi.co.uk
Malcolm has worked as a consultant on marine issues since the mid 1980s. A large part of his work has been as an advisor to environmental organisations, principally Greenpeace and WWF.
MOSHI MOSHI. PROUD TO BE GOOD FOR THE ENVIRONMENT.